XR-1000 readout unit with dual-wavelength
sensor detector connected directly to unit
XR-1000 readout unit with dual-wavelength
sensor detector connected to unit via USB cable
| MODEL | READOUT UNIT |
| --- | --- |
| XF-1000 | Calibrated for fluorescent UV tubes |
| XR-1000 | Calibrated for HID UV bulbs |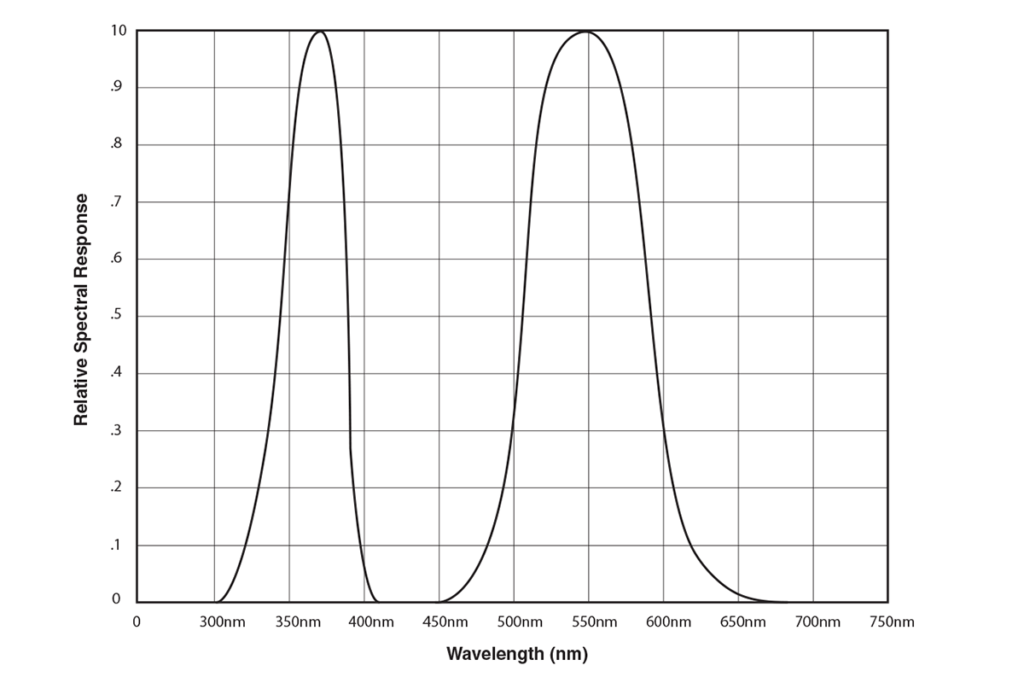 Accurate
The AccuMAX™ XRP-3000 radiometer/photometer kit uses a dualwavelength UV-A/VIS sensor detector to measure both ultraviolet and visible light. Featuring automatic zeroing, integration and signal hold, the unit provides accurate readouts for UV, visible irradiance or radiance. The LCD readout features ±0.2% linearity with the sensor sending the linearity correction data to the readout unit during initial power up. To ensure consistent results, sensors are designed with superior bandpass filters while optical stacks are assembled in Class 100 clean workstations. For precise spectral coverage, high-quality interference filters are used to resist degradation.
Durable
The rugged meter housing features a removable, rubber protective boot for better grip and to help prevent accidental breakage. It also provides superior protection against moisture contamination, shock and humidity. In addition, the XRP-3000 features a liquid- and water-resistant, sealed sensor housing with a special self-sealing ring to help eliminate light leakage.
Simple Operation
The XRP-3000 meter's microprocessor is the heart of its simplicity. Just four pressure-sensitive buttons on the readout unit's membrane keypad offer an extensive array of advanced functions. For example, to subtract ambient light, the user need only press the "ZERO" button. This activates autozeroing, sets the value to 0 and displays relative readings of subsequent measurements. "HOLD" freezes the display thus obtained, while "INTG" displays the average UV intensity after integrating the UV energy over time. These functions and other user-selectable parameters are easily accessible through the software's main and sub menus.
Multilingual Display Settings
The XRP-3000 features user-selectable, multilingual display settings. Choose from four languages: English, French, German, and Spanish.
Reliable
The XRP-3000 radiometer is carefully quality-controlled to ensure that each unit has up-to-date calibration and meets stringent measurement requirements. Housed in a durable polycarbonate case, it features dependable solid-state electro-optical circuitry for long, trouble-free operation.
Portable
The XRP-3000 is compact, lightweight and battery-operated for convenient use in the factory, field or any other location where measurements need to be taken. A slide-out panel allows for easy replacement of the unit's 9-volt batteries.
AccuMAX™ XS-555/L Luminance Sensor Detector
The perfect accessory for the AccuMAX Series meter. Ideal for technicians performing radiographic examinations. Meets ASTM E1742 standard.
Luminance is typically used to measure uniformly radiating surfaces, such as backlit panels, film viewers and monitors. The AccuMAX XS-555/L luminance sensor detector measures the brightness of a visible light source and, unlike many competitive units, allows the user the choice of displaying the results in three distinct units of measure: candelas per square meter (cd/m2), candelas per square foot (cd/ft2) and footlamberts (fL).
Readout Unit (XR-1000)

Resolution Screen

4-digit autoranging display 128 x 64 dot pixel chip on glass transmissive monochrome LCD—2.8 in (7.1 cm) diagonal illuminated (backlit)

Sampling Rate

7.5 Hz (single sensor)
15 Hz (dual sensor)

Better than ±5% with reference to NIST standards

±0.025%/°C (0 to 50°C)

Dual UV-A/Visible Sensor Detector (XDS-1000)

UV-A Sensor

Visible Sensor

Measurement Range

0–100 mW/cm2

0–5,300 lux (0-500 fc)

Spectral Range

320-400 nm

460-675 nm

Luminance Sensor Detector (XS-555/L)

Sensor Detector (accessory)

Measurement Range

0–1,000,000 cd/m2
(0–285,000 fL)

Spectral Range

460-675 nm

Power Requirements

Battery Operation
Two non-rechargeable 9V alkaline battery cells are included as standard

Dimensions

Readout Unit

Length

Width

Thickness

Weight

7.75 in (19.7 cm)

4.25 in (10.8 cm)

1.25 in (3.2 cm)

0.8 lb (360 g)

Sensor Detector

Length

Width

Thickness

Weight

4.75 in (12.1 cm)

2.0 in (5.1 cm)

7/8 in (2.2 cm)

0.22 lb (100 g)

USB Cable

5 ft (1.5 m)
Please note: We now offer AccuMAX™ with a sensor front end aperture of 0.5" in diameter to address those customers who require this specification for their internal UV-A light measurements. The new part number is XRP-3000A and it is functionally the same as XRP-3000.